Water Supply Historical Collection of the Upper-Tiszanian Region
- Nyíregyháza
Address:

4400, Nyíregyháza Móricz Zsigmond utca 48.

Phone number:

(42) 502-200

Opening hours:

Mon-Thu 8-12

On prior notice: beyond the opening hours as well
Visitors are quite amazed when they see the materials - relics out of the past of the waterworks - collected in past decades. The collection offers excellent source material for people writing dissertations, essays or conducting a research in various topics. Biographical data, essays, monographs, plans and projects are at the disposition of the researchers.

Permanent exhibitions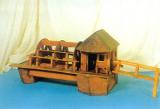 Visitors can see original engineering certficates from the end of the century, as well as surveying instrument: angle prisms, theodolites, leveling devices. The technical sketches of the Tisza, Szamos, Túr and Kraszna rivers and the drainage channels are also displayed.

further exhibitions