Pál Molnár C. Studio Museum
- Budapest
Address:

1118, Budapest Ménesi út 65.

Phone number:

(30) 201-1073, (30) 303-7518

Opening hours:

Temporarily closed.
Permanent exhibitions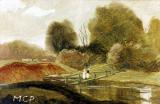 The art of Pál Molnár C. was greatly affected by Italian art. Even though he tried all new trends since he was a playful person, every new isms and schools excited his phantasm. Sill, Italian Renaissance and experience of three years formed his individual style.