Address:

7570, Barcs Széchenyi utca 22.

Phone number:

(82) 463-207

Opening hours:

Tue-Thu 10-12, 13-16, Fri 9-12, Sat 9-12, 13-16

Other times: by prior arrangement
The only museum institution of Inner-Somogy opened in 1979 in Barcs. It collects material from the Dráva region. The document and local history collection of the Dráva Museum holds material focusing on Barcs. The documents of present days, that of factories, families and institutions, are tended with great significance. Almost three quarter of the ethnography collection deals with material acquired from minority groups. The museum has a rich collection of the clothing and textile of Croatians living along the River Dráva. The collection also includes everyday used objects, tools and equipment. The archeology collection is one of the richest in the county.

The ever-growing data collection on museology is a great help for the researchers who are engaged in the search of ethnography and the history of the region. The material includes a large number so far unprocessed manuscripts, essays and articles. The photo archive contains photos to be found in this collection only.

The library of the museum has several functions: collects books on the River Dráva, the region and the county, as a special scientific library it obtains the specialized literature for professional work at the library.

The Dráva Museum published yearbooks from 2003. Some of the research works are published in volumes.

The exhibitions of the Colony of Artists of Barcs organized yearly are also held in the museum. The body of the fine- and applied arts collection is made up of works made at the colony.

The permanent exhibition held in the ward upstairs titled 'The Past and Present of Barcs' shows the life of people living in town in the past and present days. The inscriptions are in German and Croatian besides Hungarian. We provide guided tours in English. Temporary exhibitions are held in the ward downstairs. The chamber ward hold fine- and applied arts exhibitions. All displays are open every day except for Mondays. If prior notice is sent, we welcome groups on Monday.
Permanent exhibitions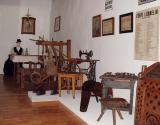 Our contemporary exhibition introduces the life and culture of the town of Barcs from its beginning until nowadays. First we show the archeological findings rescued in Barcs and the surrounding areas and give an insight into the lives of the people who lived here in times before history. Objects found at the excavations in the largest number were everyday used tools. By the help of the ceramics we may also take a peep into the lives of our ancestors.

further exhibitions