Address:

7570, Barcs Széchenyi utca 22.

Phone number:

(82) 463-207

Opening hours:

Tue-Thu 10-12, 13-16, Fri 9-12, Sat 9-12, 13-16

Other times: by prior arrangement
The only museum institution of Inner-Somogy opened in 1979 in Barcs. It collects material from the Dráva region. The document and local history collection of the Dráva Museum holds material focusing on Barcs. The documents of present days, that of factories, families and institutions, are tended with great significance.

Permanent exhibitions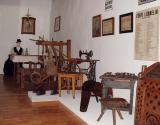 Our contemporary exhibition introduces the life and culture of the town of Barcs from its beginning until nowadays. First we show the archeological findings rescued in Barcs and the surrounding areas and give an insight into the lives of the people who lived here in times before history. Objects found at the excavations in the largest number were everyday used tools. By the help of the ceramics we may also take a peep into the lives of our ancestors.

further exhibitions