Rippl-Rónai Museum
- Kaposvár
Address:

7400, Kaposvár Fő u. 10.

Phone number:

(20) 287-9323

Opening hours:

01.04-31.10.: Tue-Sun 10-16

01.11-31.03.: Tue-Sun 10-15
One of the most significant institutions of the museum is the science labor that performs the collecting, preserving, and displaying functions according to needs. The number of the pieces in the collection is over half a million.

The storages hold the material of five fields of study: art history, ethnography, archeology, the history of modern age, and natural sciences. Among them, we can find objects, documents from the archives, photos, and sound material. Museologists and collection operators perform the scientific procession and the registering works. Restaurateurs and preparators perform the preservation work.

The Museum Association of Somogy County was founded in 1909. The original material of a thousand and a half became so large that five permanent exhibitions and several temporary exhibitions show them presently. The scientific work is published in professional and other popular publications.

The network of museums is made up of twelve units currently. The institution has a close relationship with the scientific and educational institutions, other public collections, national and international organizations. The scientific publication is available for all the visitors. The numbers of them reach 55-60 000 yearly but the number rises year after year.

Honoring the work of the museum, the General Assembly of Somogy County awarded our museum with the 'Creative Prize' in 1996.
Permanent exhibitions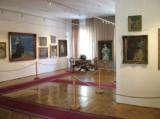 The collection holds pieces valued outstanding by the younger brother of the painter: István Csók, Béla Czóbel, Károly Ferenczy, Dezső Czigány, Károly Kernstok, Béla Iványi Grünwald, Ödön Márffy, János Vaszary, Mihály Zichy , Dezső Orbán, and her brother, József Rippl-Rónai.

further exhibitions