Rippl-Rónai Museum
- Kaposvár
Address:

7400, Kaposvár Fő u. 10.

Phone number:

(20) 287-9323

Opening hours:

01.04-31.10.: Tue-Sun 10-16

01.11-31.03.: Tue-Sun 10-15
One of the most significant institutions of the museum is the science labor that performs the collecting, preserving, and displaying functions according to needs. The number of the pieces in the collection is over half a million. The storages hold the material of five fields of study: art history, ethnography, archeology, the history of modern age, and natural sciences. Among them, we can find objects, documents from the archives, photos, and sound material.

Permanent exhibitions
The exhibition presenting the natural values of Somogy County begins with the presentation of the geographic situation of the county, which is followed by the presentation of the history of its geochronological formation.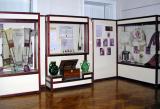 The first ward is the location of wooden carved objects and equipment of shepherds and peasants. The traditions of the so-called 'betyár', the outlaws are also presented in this ward. In the second ward, the nicest pieces of guilds of the tailors, furriers, and dyers, who mainly worked for the peasants and shepherds can be seen.

further exhibitions