István Szőnyi Memorial Museum
- Zebegény
Address:

2627, Zebegény Bartóky u. 7.

Phone number:

(27) 620-161

Opening hours:

01.03-30.10.: Tue-Sun 9-17
This house is more than just a museum in the traditional sense of the word. The purpose of the founders has been to preserve and show as much as possible of both Szőnyi's works and the milieu where these works were created. So visitors seeing the collection of Szőnyi's outstanding works the visitors can enter a world not existing any more, can get acquainted with the relics of the studio otherwise closed from the public.

Permanent exhibitions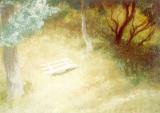 The permanent exhibition of the museum that you can find in the first three rooms and the studio provides a nice cross-section of the painterly part of the oeuvre. Each period is represented with an important art piece. In the present review we mention but a few.

further exhibitions