Tragor Ignác Museum - Medieval Cellar
- Vác
Address:

2600, Vác Széchenyi u. 3-5.

Phone number:

(27) 500-750

Opening hours:

Wed-Thu 10-17, Fri-Sun 10-18
The 15th century stone-cellar was built in the age of King Matthias. The archaeological finds shown were found at the excavation when the foundations of the present building were laid. The ceramic, metal and glass objects revealed form layers above each other representing the several centuries long history of the town from the 13th to the 19th century.

Permanent exhibitions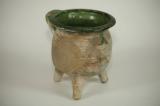 The historic downtown of Vác, now Március 15. Square, has been an archaeological site for decades. In the second part of the 1980s large-scale construction works began in Széchenyi Street which led to the reconstruction of the topography of a medieval town.

further exhibitions