Blaskovich Mansion Museum
- Tápiószele
Address:

2766, Tápiószele Múzeum út 13.

Phone number:

(53) 380-157

Opening hours:

28.02-14.11.: Tue-Sun 9-17

15.11-31.01.: Tue-Fri 10-16
The BLASKOVICH MUSEUM in Tápiószele is the only mansion museum of the country, which survived harmlessly - even in its furniture - the vicissitudes of the World War II. The history of the museum of Tápiószele started on two threads.

The grandfather, Gyula Blaskovich (1806-1850) bought paintings and etchings from the estate of János Pyrker, an archbishop of Eger. His son, Gyula Blaskovich (1843-1911 ) was the first to put some valuable items of the private collection on public show (Nagybánya 1889, Budapest 1896.

So one of the threads was the archeological activity of György Blaskovich, and the other was the activity of the grandsons, marked by the Scythian princely shield ornament: the gold deer found at Tápiószentmárton in 1923, as well as by the excavation of the Scythian burial place (1938-53) in Tápiószele.

After moving to Tápiószele (1912), the Blaskovich brothers continued enriching the inherited material, from which they established a state museum in 1952.
Permanent exhibitions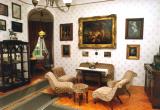 The most beautiful room of the mansion is the empire parlour. The walls are decorated with paintings made by Károly Kisfaludy, Miklós Barabás, Alajos Györgyi Giergl and 17th-18th century Italian, Netherlandish and Austrian painters. The most outstanding of them are Christ on the Cross, Tintoretto shool (17th century); Strom at Sea ny Vernet (18th century); Baptism of Christ by Danhauser; Christ Is Healing the Lame Man by Fiamingó. In the glass cases porcelains from Vienna and Meissen and glass objects are displayed.

further exhibitions