Village Museum
- Tápiógyörgye
Address:

2767, Tápiógyörgye Béke utca 2.

Phone number:

(53) 383-001

Opening hours:

15.03-16.10.: Sat-Sun 13-17
Tápiógyörgye was rebuilt in the first half of the 18th century. Its original set of streets was changed due to street and estate regulations. The set of streets became orderly, as well as the estates.

The dwelling houses in the village used to be built in the Great Plane type. The originally used Great Plane style beehive oven gave place to angular ovens. The building of the Village Museum is located next to the Roman Catholic church, opposite the primary school. The house was built during the stay of the clergyman Endre Gecse (1875-1892). However, its construction is not documented in the "História domus". According to the date in the beam in the room, the house was built for teachers in 1883. The village tradition holds that it was built in 1906-1910 with the contribution of the judge József Vágány.

Since two houses are attached, two teachers could dwell in the building at the same time. The entrances were on the two opposite sides. On the right side a so-called "Ámbit of Györgye" is located. It was typical of rich peasant homes in the 1860's.

Permanent exhibitions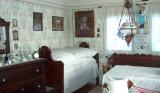 The first material to the collection of the Village Museum was acquired by the teacher László Molnár who began collecting objects used by peasants in the 1960's. The collection was kept on the attic of the school until they were shown at exhibitions.

further exhibitions