Jenő Ádám Memorial House
- Szigetszentmiklós
Address:

2310, Szigetszentmiklós Árpád utca 29.

Phone number:

(24) 368-264

Opening hours:

Mon-Fri 8-16 (Sat: on prior notice)
Near the region history collection of the town the Ádám Jenő Memorial House is found, which opened its gate before the general public in 1979. The artist (1896-1982) awarded the Kossuth prize lived here and in his will left all his belongings to his town. The musical heritage and furnishing of the teacher are exhibited in the 120 years old white-washed house.

Permanent exhibitions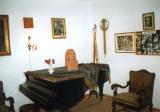 The Ádám-family moved to Szigetszentmiklós from Alcsút at the end of the 19th century. The grandmother of the school teacher was a midwife from 1869 to 1921. His daugter got married to policeman István Ádám in 1894. They had two children: Jenő and Lajos.

further exhibitions