André Kertész Photography Museum
- Szigetbecse
Address:

2321, Szigetbecse Makádi út 40.

Phone number:

(24) 513-510, (24) 513-511

Opening hours:

Temporarily closed.
Permanent exhibitions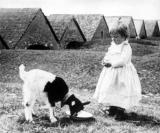 "Becse was not important because of my family, but because I could get close to nature and those who were close to me when all this happened. Later, whenever I photographed landscape or people in Tiszaszalka, Esztergom, Harasztiban, in France or in New York, the landscape and people of Becse were reborn in my oictures." - he said in one of his late interviews. The artist offered and sent 120 of his signed photographs to the museum.