André Kertész Photography Museum
- Szigetbecse
Address:

2321, Szigetbecse Makádi út 40.

Phone number:

(24) 513-510, (24) 513-511

Opening hours:

01.05-30.09.: Mon-Fri on prior notice, Sat-Sun 10-17

01.10-30.04.: On prior notice
Szigetbecse is proud to have a memorial museum devoted to one of the most significant and famous photographers of the 20th century.

. Kertész was born in 1894 and spent much of his childhood with his relatives living in Szigetbecse, among his first photographs several can be found of the landscape and the people of the village. André Kertész had this intimate connection all his life and was happy to hear that a house similar to his relatives' house would be restored for him in the village. He offered and sent 120 of his signed photographs to the museum.

As Kertész died it became a memorial museum and some of the furniture and personal belongings from the New York apartment were also taken here.

The André Kertész Memorial Museum opened in 1985 and the village remembered the centenary of Kertész's birth in 1994 by renovating the museum and dedicating a memorial plaque. The 120 photographs can be seen in the house as well as temporary exhibitions which has been visited by hundreds.

The village wishes to establish a tradition and furnished a room for artists who would like to visit and photograph the landscape and people of Becse.

Permanent exhibitions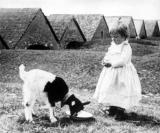 "Becse was not important because of my family, but because I could get close to nature and those who were close to me when all this happened. Later, whenever I photographed landscape or people in Tiszaszalka, Esztergom, Harasztiban, in France or in New York, the landscape and people of Becse were reborn in my oictures." - he said in one of his late interviews. The artist offered and sent 120 of his signed photographs to the museum.

further exhibitions