Village Museum, Nagytarcsa
- Nagytarcsa
Address:

2142, Nagytarcsa Múzeumkert u. 21.

Phone number:

(70) 379-8262

Opening hours:

Tue-Wed 10-16, Thu-Fri 10-14
The peasant house built in the style of the great Hungarian plains was a part of the Tessedik Sámuel popular high school established in 1938. This institute was meant for the further education of the peasants. Besides maths, literature, geography and history, subjects like falk music (Bartók, Kodály), ethnography and popular arts were also taught. Because of the second World War the popular high school ceased to function.

Permanent exhibitions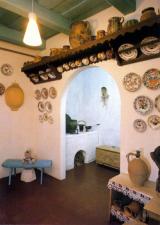 The wooden basin also hangs on the wall. This was used for kneading or pigsticking works. There is a table underneath the basin. This was always moved to wherevever the family wanted to eat. They used to consume the food from a mutual dish.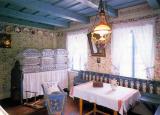 We get to the first room to the left of the porch. The visitor's eye will be captured buy a blue, tulip figured bed made up with embroidered bed cushons. On the top of the feather filled duvet there is the embroidered and lace ornamented bed cover. The white one belongs to the first room. Same decor does not capture, only patterned cardboard the residential indoor bed cover.

Their embroidery technology was characterized by one colour. Only later did they stitch the red together with the blue. The ornamentation and arts of the local people were developed during the course of time. In the 1920'ies the sleeves of the shirts and the ironed kerchieves began to be ornamented by white hole embroidery.

further exhibitions