Visitor Centre of the National Bank of Hungary
- Budapest
Address:

1054, Budapest Szabadság tér 8.

Phone number:

(1) 428-2751

Opening hours:

Temporarily closed.
The Visitor Centre is an exhibition focusing on the areas, concepts and deices closely related to the Bank's activities. The Centre covers a wide range of apparently very different topics whose central unifying theme is (what else could it be?) money. The exhibition begins by describing how money developed over the ages, what notes and coins are in circulation and how they are protected against counterfeit. It also includes a display of exotic banknotes, commemorative coins and other special money from all over the world.

Permanent exhibitions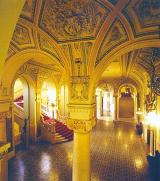 This sectioín is divided into two parts. The first deals with the history of the monumental main building designed by Ignác Alpár, which dates hack to the period before the establishment of the independent bank itself. The second focuses on the main periods of the Banks history from its formation in 1924 to the present.

This section on the history of currencies displays the most important and interesting pieces of the MNB's Banknote and Coin Collection comprising nearly 50 000 pieces. The history of Hungarian currency dates back to St. Stephen's first denar with the circular inscription LANCEA REGIS/REGIA CIVITAS.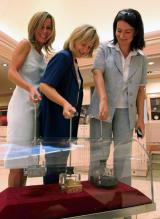 One of the Center's goals is to allow you to learn more about a number of interesting topics related to the Bank's activities at your own pace. In addition to 'serious' financial themes, we would like to offer you a chance to check in a playful way what you have learned at the exhibition or try our games connected to money.

In order to maintain price stability, the MNB's most important aim is to reduce inflation. This part of the exhibition sheds light on the financial background of inflation and its effects on everyday life. You can calculate how the price of a given product has changed over the years and see how the price skyrocketed in the Nears of hyperinflation.

further exhibitions