Radio and Television Museum
- Diósd
Address:

2049, Diósd Géza fejedelem útja 11.

Phone number:

(1) 268-1997

Opening hours:

Tue-Sun 10-16
The museum opened on December 1, 1995, the 70th anniversary of radio broadcasting in Hungary, in the premises of Antenna Hungarian's short-wave transmitter station at Diósd.

The station, designed by the postal engineer Jenő Schámár, was begun 1943, but due to damage in the Second World War, not completed until 1948. The museum occupies what was the main transmitter room, with some smaller adjoining rooms. The park in front of the building contains an open-air display of some relics of Hungarian broadcasting (antennae etc.). Most of the exhibits in the museum consist of transmitter equipment, but there are also relics of studio and receiver equipment, shipping and military telecommunications, and radio and television.

The museum is proud to possess the scientific legacy of the Hungarian Nobel prize-winning physicist György Békésy, a former postal engineer. This was returned from the United States, and now occupies two rooms. There is an audio-visual information system explaining the museum.

Permanent exhibitions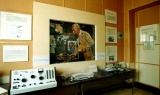 The museum is proud to show the scientist heritage of the Nobel Prize awarded physicist Békésy György who just returned from the USA. The Békésy memorial rooms (1., 2.) show the life of Békésy György, his work at the Experimental Post Station and the tools, pictures and presentations of the University of Hawaii established in 1978.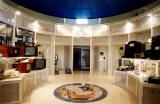 The exhibition divided into three thematic units presents the history of TV and radio. On the gallery, applied components and accessories are shown.

further exhibitions