Jakab Bleyer Region Historical Collection
- Budaörs
Address:

2040, Budaörs Budapesti út 47/1

Phone number:

(23) 440-217

Opening hours:

Tue-Sat 14-18, Sun 10-14
The building hosting the Heimatmuseum was built by János Wéber in 1888. His grandson János Wéber Jr. sold the house where the Local History opened in 1987 to the Town Council of Budaörs at the end of the 1970s. The walls are of bricks and limestone; the roofs are of yellow tiles. The barn and the stairs down to the basement are connected to the main building.

The main entrance in use at present opens to the rooms that were attached to the building posterior. The room probably served as the bedroom for the oldest members of the family, or the newly married couple. The showing about the local history of Budaörs is located in the room, with a rich selection of photos and documents of the past, from the first part of the 18th century to 1946.

The interior typical of the 1940s is set up in the clean room and kitchen of the peasant house. Furniture and tools, part of them were restored in 2009, are on display in the clean room and the kitchen.

The family room opens from the kitchen where our temporary exhibitions are usually located.

The last room in the house is the small room where we commemorate two honorary citizen of our town. We also present the history of the German minority living in Budaörs after the change of social system.


Permanent exhibitions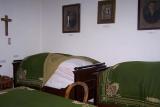 The clean room with wooden floor represents the lifestyle and dominant furnishing in the second part of the 20th century. The Biblical paintings, crosses and the stoop hung up beside the bed tell about the religious spirit of the Swabians who once occupied this house.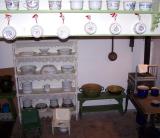 A water bench with glazed buckets to keep rainwater in them is located right from the door opening from the veranda. Requisites to washing are also to be seen there: the glazed basin, homemade soap and the embroidered towel. A flogged two-shelved sideboard is placed at the left wall of the kitchen. The dining table must have been in the middle of the kitchen originally.

further exhibitions