Mining Exhibition Space of the Nógrád Historical Museum
- Salgótarján
Address:

3100, Salgótarján Zemlinszky Rezső út 1.

Phone number:

(32) 520-700, (32) 420-258

Opening hours:

01.04-30.09.: Tue-Sun 9-15

01.10-31.03.: Tue-Sun 10-14
On 1st December 2000 an extended open-air macjchine park was opened on the yard of the mining museum. A diminished (1:6) shaft tower was handed over in 2001.

Permanent exhibitions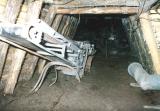 In the mine yard the utility tools and transportation appliances used in the past are exhibited in chronological order (from 1986 backwards). A big map will help visitors understand the use of the transportation appliances standing on the norrow railway.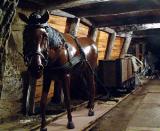 The entrance of the underground mine museum is indicated from afar off by the artwork of István Szabó. The alarm pole standing at the left hans side used to indicate the beginning and end of the underground work (and the emergencies). The bell towere standing on the right was brought here from the mining compound of Székvölgy.

The exhibition displays miner festive costumes, contemporary instruments, lighting instruments, maps, statistics, documents connecting to mining works and photographs. The colonies, schools, hospitals, casinos, baths and playing-fields also let us look into the lifestyle of this closed community.

further exhibitions