Tatabánya Museum
- Tatabánya
Address:

2800, Tatabánya Szent Borbála tér 1.

Phone number:

(34) 688-192

Opening hours:

Tue-Sat 10-18
The Museum of Tatabánya was established in 1971 for pieces from the New and Modern Age. Its main task is to collect records from Komárom-Esztergom County from the 19-20th century from the field of mining and lifestyle.

The first permanent exhibition was opened in 1975 in an old school building. The museum moved to its present location, the Cultural Center, in 1985. In 1987, the museum purchased the old shaft no. 15.

The material owned by the museum and the territory to show them grew gradually. Today the number of the pieces in the collection is around 100.000. From 1992, archeology and ethnography was included in the fields of interest.

The Museum of Tatabánya won the 'Museum of the Year' title and won the Prize 'For the Culture of Tatabánya' in 2001.

Presently, two buildings are open for visitors who wish to see the variable exhibitions.
Permanent exhibitions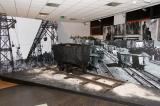 Based on the Museum Tatabánya broad range of collection, and its collection that developed accordingly a complex presentation of the city and its surrounding has been sought for some time now. Designing our new permanent exhibition, we did not want to deviate from this concept.

further exhibitions