Oroszlány Mining Museum
- Oroszlány - Majkpuszta
Address:

2840, Oroszlány - Majkpuszta Majk, XX-as akna

Phone number:

(34) 704-179, (99) 312-667

Opening hours:

Temporarily closed.
The exhibition of history of Oroszlány's coal mining opened on the court and in the buildings of the former XVI. mine-shaft in Oroszlány, in connection with the 40th anniversary of starting mining, in 1979.

Organizational and structural works were done by the Oroszlány Coal Mines Company. Mining Museum of Oroszlány as an institution functioned with the support and as part of the company mentioned above until 1994. Then, to be able to operate the museum, Oroszlány Miner Museum Foundation was established by Vértes Power-Station Corporation, who continued coal mining.

In 2001 with the help of Vértes Power-Station Corporation the Museum was moved to the remaining buildings of XX. mine-shaft near Majkpuszta, in part of the shaft's closing down and recultivating projects. The enterprise established infrastructure necessary to its operation, leaving the power-house and headframe of the hoisting shaft, the loading station of the connecting cableway, and the tram-road in its original form. The Corporation built the museum tunnel (mine model, scale 1:1), which is a tunnel-like system of mine-openings, and the open-air exhibition site on the court. The new site of the museum is next to the most important turistical viewing-point of Oroszlány, nearby Majkpuszta, 700 m from the ruins of monastery.

From 2001 the museum waits its visitors with a new continuous exhibition. The exhibition states the history of local coal mining under the name of "History of Coal-Mining in Oroszlány". In 2004 the Oroszlány Miner Museum Foundation fused with the Central Museum of Mining Foundation and the Museum functions under the same name, within the new organizational setting, as a branch of the Central Museum of Mining.

Permanent exhibitions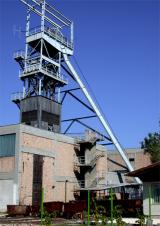 The exhibition of coal-mining history of Oroszlány was built on the periphery of Oroszlány and on the XX. shaft and in the remaining technological buildings. Coal-mining in Oroszlány began in 1937 and still operates in our days. The exhibition, which takes place in the main building where earlier the lamp-cabin and reader used to be, shows the conception and development of coal-mining, operating from 1937 in Oroszlány. The exhibition is in more rooms and shows in its original form the dispatcher centre connecting to the operative product management, the office of the captain, and the inspectoral office.

further exhibitions