György Klapka Museum
- Komárom
Address:

2900, Komárom Kelemen László u. 22.

Phone number:

(34) 344-697

Opening hours:

Tue-Fri 9-17
The György Klapka Museum of Komárom was founded in 1966. Its manager was László Kecskés. The Roman stone collection opened in 1975, Another exhibition presenting the history of the Hungarian Navy organized by Dr. Ferenc Juba opened in 1987.

The collection of the material of local and archeological findings grew in number. Several objects were listed from the excavations of the Roman period in Komárom/Szőny. Soon, the place for the material proved too small and another ward in the main building was opened in 1996. Dr. Gyula Krajcár, the Major of the town, was of an enormous help. Beside the permanent exhibition presenting the Roman findings several temporary shows are also held here where exhibitions of fine- and applied art, local history, and ethnographic material is presented. The most famous pieces of the museum are also shown here.

The fine art collection includes the works of painters born in Komárom. The pictures are from György Lenhardt, Károly Harmos, Sándor Basilides, Márton Nagy and Kálmán Angyal. A portrait painted by Mór Jókai in 1843 of his host, Mrs. Gyenes, is also owned by the museum. We have the largest collection of the works of György Rauscher. The painter who was popular in 1902-1930 painted in the spirit of 'art deco'. His brother, László Rauscher left us the pictures in his will. László jeszenszky donated us 50 pictures which he painted of the old streets, squares, shops, and public places of Komárom.

The basis of the collection of applied art was the works of Ágnes Kecskés goblin designer. The goblins titled 'Hymn' and 'Komárom' are both displayed in the Major's office.

The material of local history includes the compilation of sports history. The heritage of the famous soccer player, Zoltán Czibor, was bought by the museum in 2001. The Czibor memorial room opened in the same year in the office of the sports center named after him. The chamber exhibition is very popular among the foreigners as well as the locals.

The museum published the paper 'Acta Archaeologica Brigetionensia' first in 2000 to show the findings of Brigeto thematically.
Permanent exhibitions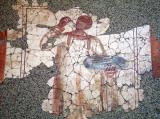 The excavations on the marketplace of Szőny have been performed ever since 1992 with Dr. László Borhy as supervisor. The findings are from the Roman period. Presently the systematic unearthing of the civic town of Brigetio is being done. In 1994, large Roman wall paintings were found.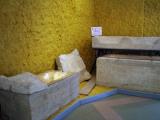 The most spectacular pieces of the exhibition are the three sarcophaguses which are shown with their complete material: the skeleton, jewelry, and tools. The graves of a little girl, a German warrior, and his family were excavated in 1998 at the factory of the MOL Rt. in Szőny in the old cemetery of the soldier's town of Brigetio.

further exhibitions