György Klapka Museum
- Komárom
Address:

2900, Komárom Kelemen László u. 22.

Phone number:

(34) 344-697

Opening hours:

Tue-Fri 9-17
The György Klapka Museum of Komárom was founded in 1966. Its manager was László Kecskés. Beside the permanent exhibition presenting the Roman findings several temporary shows are also held here where exhibitions of fine- and applied art, local history, and ethnographic material is presented. The most famous pieces of the museum are also shown here.

Permanent exhibitions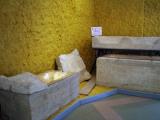 The most spectacular pieces of the exhibition are the three sarcophaguses which are shown with their complete material: the skeleton, jewelry, and tools. The graves of a little girl, a German warrior, and his family were excavated in 1998 at the factory of the MOL Rt. in Szőny in the old cemetery of the soldier's town of Brigetio.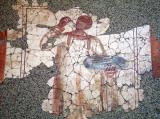 The excavations on the marketplace of Szőny have been performed ever since 1992 with Dr. László Borhy as supervisor. The findings are from the Roman period. Presently the systematic unearthing of the civic town of Brigetio is being done. In 1994, large Roman wall paintings were found.

further exhibitions