Danube Museum - Hungarian Museum of Water Administration and Environmental Protection
- Esztergom
Address:

2500, Esztergom Kölcsey utca 2.

Phone number:

(33) 500-250

Opening hours:

Temporarily closed.
The Hungarian hydraulic engineering was introduced in a separate exhibition hall in 1896-ban (national exhibition). Visitors were welcomed by a statue of a group of people representing István Széchenyi - initiator of the river controlling works of the 19th century - and a number of nameless workers. The rivers Danube and Tisza, and the offices, companies and private exhibitors got place in the two wings of the hall.

Permanent exhibitions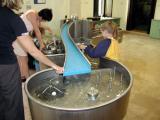 The exhibition demonstrates the history of pottery in Mezőtúr, from the 18th century to this present-day. Written materials prove that the potters joined in guilds as early as in the 18th century. Initially they made black pots. Their specific product was the pitcher.

further exhibitions