Kuny Domokos Museum
- Tata
Address:

2890, Tata Váralja u. 1-3.

Phone number:

(34) 381-251, (34) 381-251
The building of the castle is of a special interest. It was built from 1397 to 1409 on the territory of the Lackffy family where the Hills V├ęrtes and Gerecse meet, on a cliff surrounded by swamps and water.

Permanent exhibitions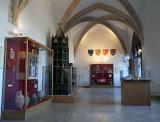 Finds from excavations at the Benedictine Monastery of V├ęrtesszentkereszt are shown in this room. Among the objects, the visitors can find enamelled stove tiles, book covers, ornament glasses made in one of the royal workshops, as well as burial finds related to the monastery.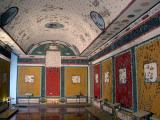 In the room upstairs, the reconstruction of a room with frescoes once located in Briegetio can be seen. Fragments from the 2nd century AD were found in 1961. The reconstruction of the frescoes took over three decades. Most of the scenes are involved with Greek mythology. Carvings from the era of the kings Zsigmons and M├íty├ís are located downstairs, as well as relics from the Benedictine monastery of V├ęrtesszentkereszt from the 12-13th century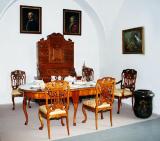 Objects and pots made by the faience manufactures of Tata are in the centre of the display. However, they are not displayed in showcases this time but appear on laid tables. We show crab plates, tabernacle furniture and other furniture of unique, often misleading form.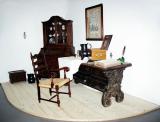 The exhibition presents memoirs of the operation of the body of guilds: guild chests, jugs etc. A uniform interior presents the memoirs of the shoemaker guild with all the tools of a convivial gathering. We show the open guild chess, the seal, cups, pot belonging to the guild. There is a masterpiece made by an apprentice set to be inaugurated master, a little pair of boots.

further exhibitions