Liszt Ferenc Memorial Museum and Research Center
- Budapest
Address:

1064, Budapest Vörösmarty utca 35.

Phone number:

(1) 342-7320, (1) 322-9804 /11611

Opening hours:

Mon, Wed, Fri 10-18, Sat 9-17
The Franz Liszt Memorial Museum and Research Centre as a department of the Academy of Music plays a leading role in the Hungarian Liszt-research. The Museum's permanent exhibition is Liszt's one-time flat, the changing exhibitions are organized in the middle room and on the passage on the ground-floor. The museum preserves and continuously collects new documents on Liszt and elaborates them. These new acquisitions sometimes are exposed on the changing exhibitions.

The museum organizes concerts on Saturday mornings as well, with brief introductions to the pieces. The musicologists of the Research Centre participate in the international research on Liszt and on the music of the 19th century and help the activity of the museum by guiding and by introducing the Saturday concerts. The main common task of the Research Centre is the preparation of the Thematic Catalogue on Liszt's Works.

The activity of the Museum and of the Research Centre are closely bound together, for example Liszt's original instruments, his books and music library in the museum serve as source materials for the Liszt-research. The richest first and secondary literature on Liszt in Hungary can be found also here, the latter in the Franz Liszt Research Library beside the Research Centre. All the activities of the museum is sponsored by the Franz Liszt Foundation, through which anyone is welcome to help the institution.
Permanent exhibitions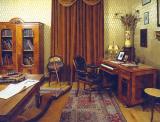 The Museum is a reconstruction of the apartment of the famous Hungarian composer and pianist. The building was built in 1879 to house the Hungarian Music Academy which had been established four years before due to the efforts of Liszt. He lived here in the last six years of his life being the president and professor of the Academy.

further exhibitions