Hajdúnánás Region House (Hajdú House and Smithery)
- Hajdúnánás
Address:

4080, Hajdúnánás Hunyadi utca 21.

Phone number:

(52) 382-400

Opening hours:

On prior notice
The thached roof peasant house of Hajdúnánánás, which has served as an exhibition place for the past 20 years, is only a few minutes walk from the town centre. The building was purchased from its former owner by the National Monument Protecting Authority in 1980. The building was declared a monument in the same year. Renovation works were accomplished by a local state company.

In the years succeeding the opening the county council gave permission for the establishment of a homeland connection. The first visitors could look at the photographs of the outstanding persons of the town, the tools of straw weaving, other popular tools and various documents regarding Hajdúnánánás.

The building has been functioning as an outdoor museum since 31st October 1984. The house was furnished by the workers of the local culture house and the professionals of the Déri museum, with items found in Hajdúnánás and given out from the Déri Museum.

The building itself was built in neo-classicist style, at the end of the 1700's. It bears the characteristics of its age. According to the pattern of the other houses of the Alföld, it is a straight house with three divisions and a porch lengthwise. The walls were made of mud bricks. They are whitewashed.

Entering the house we get to the first room that was used both as a kitchen and an entrance hall. A built-in fireplace is found here. The two ovens were heated from here. The left hand one is still in working order, but the other was pulled down. Kitchen devices, tools and wall plates are also found here.

The so-called clean room is the only place where there are windows. In the corner there is an oven which was heated from the kitchen. The furnishing is as usual: a bed, a wardrobe, a desk and chairs, and a flour boksz from 1867.

In the next room the visitor can see a straw exhibition.

In the court there are a sweep and a barn. At the back we can see the old stable which was made into a smithery.

A cart, agricultural tools and a horse sledge - made during a popular crafts camp meeting - are also seen outside.

Permanent exhibitions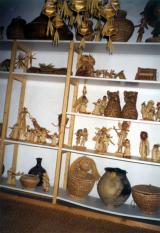 In the small house visitors can see the straw and bulrush exhibition. One of Hungary's oldest straw industry - looking back to 100-150 years - is found in Hajdúnánás. The pieces exhibited here set a memorial to the past. Visitors can see straw sewing machine, roller, hat- and bag molds, ropes, various relics of harvesting: harvest wreaths etc.On the shelves we can see the toys made by popular artist Mrs. Vitéz Istvánné from bulrush, poppyseed shell, ear of corns etc.

further exhibitions