Hajdúnánás Region House (Hajdú House and Smithery)
- Hajdúnánás
Address:

4080, Hajdúnánás Hunyadi utca 21.

Phone number:

(52) 382-400

Opening hours:

On prior notice
The thached roof peasant house of Hajdúnánánás, which has served as an exhibition place for the past 20 years, is only a few minutes walk from the town centre. The building was purchased from its former owner by the National Monument Protecting Authority in 1980.

Permanent exhibitions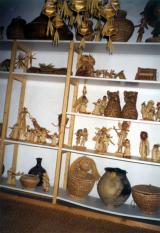 In the small house visitors can see the straw and bulrush exhibition. One of Hungary's oldest straw industry - looking back to 100-150 years - is found in Hajdúnánás. The pieces exhibited here set a memorial to the past. Visitors can see straw sewing machine, roller, hat- and bag molds, ropes, various relics of harvesting: harvest wreaths etc.On the shelves we can see the toys made by popular artist Mrs. Vitéz Istvánné from bulrush, poppyseed shell, ear of corns etc.

further exhibitions