Museum of the Hajdúság Region
- Hajdúböszörmény
Address:

4220, Hajdúböszörmény Kossuth Lajos utca 1.

Phone number:

(52) 229-038, (52) 561-182

Opening hours:

Tue-Sun 10-16
At the end of the 19th century many museums were established in Hungary. The suggestion of Flóris Rómer marked the steps to be taken, and the offers of various collector groups hastened the procedure.

Permanent exhibitions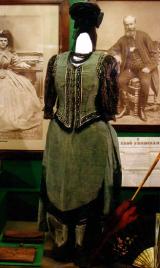 Hajdúböszörmény is a typical garden town. The courtyards of the houses were sorrounded by gardens, which were again sorrunded by the inner meadows for the home-coming animals. Beyond these there were the hereditary site lands (fields), then the huge outer pastures - the scenes of the the former waste lands and animal husbandry. The exhibition demonstrates the regional animal husbandry, grain growing, bee-keeping and vine cultivation. Within the cottier enteriours we can see the regional folk costumes as well.

further exhibitions