The Museum of the Reformed Collage of Debrecen
- Debrecen
Address:

4044, Debrecen Kálvin tér 16.

Phone number:

(52) 516-856, (52) 516-857, (52) 516-923

Opening hours:

11.04-31.05.: Closed
The museum serves as a regional and a College museum as well. The Debrecen College was established in 1538. This dual connection can be found in every sphere of its operation, whether it is the collection target or the permanent exhibitions.

Permanent exhibitions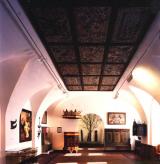 Regardless of the lack of worshipping pictures, statues and relics, even the poorest Calvinist denomination made the place of their worship by an uplifted spirit. As a result of this the small white Calvinist churches many times were decorated by a beautifully painted enteriour and the treasures of the Hungarian embroydery and goldsmith items.

further exhibitions