Zoltán Kodály Memorial Museum and Archives
- Budapest
Address:

1062, Budapest Kodály körönd 1.

Phone number:

(1) 352-7106

Opening hours:

On prior notice (Wed-Fri 10-12, 14.00-16.30)
From October 1924 till his death in March 1967 Zoltán Kodály (1882-1967) Hungarian composer lived at the Körönd, named after him today. Both the circus, where the windows look on, and the road with the entrance to the sector-shaped house have preserved numerous features of the historical waves swept across Hungary. In the spring of 1990 one of the most important workshops of Hungarian music history was opened to the Hungarian and foreign visitors. The workshop has basically remained in a condition as left by its inhabitant.

The study room with the gigantic library, the music chamber and the dining room equally recall one of the most important 20th century workshops of Hungarian music history. Photographs, manuscripts represent a whole life-work, and various documents exhibited in the ex-bedroom let visitors look into the versatile activities of Kodály.

The archives cannot be visited by the general public. Manuscripts, printed materials, pictures and recordings are there for the assistance of the researchers.

Permanent exhibitions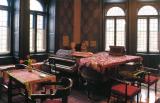 Kodály lived on the Körönd, which was named after him, from October 1924 until his death in March, 1967. He occupied four rooms with the attached chambers. The furnishing was more practical than luxurious, it was the good taste of the tenants that made the flat magical. Vernacular ceramics, embroidery, and numerous relics of his song collecting journeys made the flat unique.

further exhibitions