László Holló Memorial Museum
- Debrecen
Address:

4031, Debrecen Holló László sétány 8.

Phone number:

(52) 428-251, (52) 413-326

Opening hours:

Tue-Sun 10-16
The László Holló Memorial Museum was founded by the caretakers of the heritage of the artist in 1978. The material first exhibited in the Hrabéczy Cottage was moved to Debrecen two decades later. The collection is still maintained by the Déri Museum. Besides the Cottage that is on a territory of one acre, a beautiful park hosts the museum, which does not only include the works of the artist but also the efforts of his brother-in-law, Ernő Hrabéczy as well.

Permanent exhibitions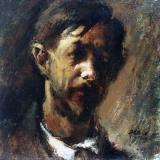 The extremely dynamic style of László Holló is dramatic, stirring, and very expressive. His series of self portrait is unique in the Hungarian art history. From the sixties he chose lighter topics too, but returned to his favorite topic in the seventies: still lives and landscapes. He received the Munkácsy and Kossuth Price, and was rewarded with the title: Worthy and Prime Artist.

Unlike his brother-in-law László Holló, Ernő Hrabéczy (1894-1953) never turned into a well known painter even though he himself also learned his trade in Munich as the student of Simon Hollósy. After his return to Debrecen he showed his works to the audience.

further exhibitions