Sopron Lutheran Museum
- Sopron
Address:

9400, Sopron Templom utca 12.

Phone number:

(99) 510-651

Opening hours:

15.04-20.10.
The story of the Lutheran congregation with its past of centuries is dated from the time of the Reformation in Hungary. The Lutheran Churh in Sopron is the oldest, most out standing work of the period after the edict of tolerance. There are many concerts held on the big organ of the Church, which has a wonderful tone.

Permanent exhibitions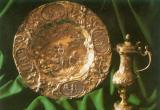 The treasures of the Evangelic Church of Sopron are from the period following the fire of 1676. They are partly made by Hungarians, partly foreigners. The followers gave donations to fulfill the loss. These treasures are shown in the permanent exhibition titled 'One Hundred Years of the Evangelic Congregation of Sopron' which opened in 1986.

further exhibitions