Collection of Forestry, Timber Industry and Geodesty
- Sopron
Address:

9400, Sopron Templom utca 4.

Phone number:

(99) 338-870

Opening hours:

Tue-Sun 10-17
It was in 1924 when the first thought of establishing a museum first occoured in our institute. The thought was followed by works. In 1931 a small exhibition was arranged at the College, but this was destroyed by the events of World War II. In 1954 a museum room was opened in the college, which was also shut down because of closing up some of the traditional branches. From 1963 negotiations were made again about forming a university museumtól. The Forestry and Timber Industry University was given an operation permit for the Collection of Forestry, Timber Industry and Geodesy.

Permanent exhibitions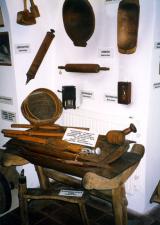 The exhibition represents - through seven rooms - the major facts embracing the history of the profession and education. First of all we can learn about the history of forestry and the early period of education. The exhibition displays petrified pieces of prehistoric trees. There are hand painted plants, replicas of Greek and medieval planes, and the model of the water driven news transmittor designed by Leonardo da Vinc, and a bird collection of 10 birds.

further exhibitions