Soproni Museum - Fabricius House
- Sopron
Address:

9400, Sopron Fő tér 6.

Phone number:

(99) 311-327

Opening hours:

01.10-31.03.: Tue-Sun 10-14

01.04-30.09.: Tue-Sun 10-18
Nominator of the house, Endre Fabricius town mayer bought the house in 1806. The building gives home to several exhibitions. There are Roman grave stones, altar stones and statues in the gothic and baroque cellar. The stone collection contains relics originated from Scarbantia - the Roman equivalent of Sopron. The medieval cellar serving as the exhibition space covers the rambles of Roman buildings.

Permanent exhibitions
In the first hall visitors can follow up the history of the university in chronological order. They can learn about the fouders, the directors and the professors who graetly contributed to the reputation of the institute.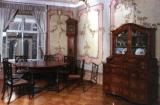 The front wing of the building gives home for a special exhibition. On the first and second floor we demonstate the utility objects and enteriour of the dwelling houses of the 17-18th centuries.

further exhibitions