Address:

1033, Budapest Fő tér 1., Zichy kastély

Phone number:

(1) 368-7021

Opening hours:

Wed 10-17, Thu 12-19, Fri-Sun 10-17
The establishment of the institute (26th November 1976) was an important station in the rehabilitation of modern Hungarian arts, regarding especially the most disputed subject of the avant-garde style. Kassák's works of applied arts were becoming more and more famous, and as such highly contributed to this favourable turning-point.

Permanent exhibitions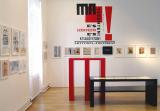 The exhibition provides an overview of the versatile work editorial, fine art and literary activities, as well as public rolesof Hungarian avant-garde artists. Through contemporary documents, publications, and visual works, the visitors may review prominent stages in Kassák's life in the work and personal aspects of his life-journey. The topics are available in a more detaileddigital format, including illustrations and explanatory texts.

further exhibitions