The Coloured World of the Hungarian Calcit Crystals
- Fertőrákos
Address:

9421, Fertőrákos Fő utca 99.

Phone number:

(99) 355-286

Opening hours:

04-05.: Mon-Sun 9-17

06-08.: Mon-Sun 9-19

In other times after checking in on phone or ringing the bell on location.
A collection of 2000 calcit crytals is exhibited in the Fertőrákos Museum. The title of the exhibition is The coloourful world of Hungarian calcit crystals. This is the only calcit crystal museum of the world!

Permanent exhibitions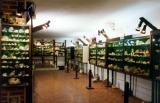 The exhibition's material displays the calcit crystals of Hungary. The items are divided into various groups, such as sediment-, Vulcanian- and transformed stones and minerals. In the protected amateur collection 300 pieces of paleontological remains are also exhibited.

further exhibitions