Xántus János Museum
- Győr
Address:

9022, Győr Széchenyi tér 4.

Phone number:

(96) 310-588, (96) 524-888

Opening hours:

01.1001.04.: Tue-Sun 10-16
The building called the 'Iron Log House' is one of the nicest buildings in Győr. It hosts the Patkó Imre collection of the Xantus János Museum. The house belonged to the chapter of Győr until the end of the 16th century. In 1833, the tradesman Zittrich Mátyás bought it. He put out an iron log under the balcony as the sign similar to those in Vienna.

Permanent exhibitions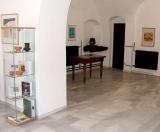 It was probably his interest in modern art that tuned Pató Imre towards tribal art. Most of the compilation contains artworks from Africa, mainly from West Sudan, the Atlantic coast, Nigeria, Cameron and people from Congo.

The compilation is made up of two large units: 70% of the collection is fine art while the remaining 30% is folk art from the Far East, Australia, Oceania and Africa.

further exhibitions