Municipal Museum of Art - Miklós Borsos Permanent Exhibition
- Győr
Address:

9021, Győr Apor Vilmos püspök tere 2.

Phone number:

(96) 316-329

Opening hours:

Tue-Sun 10-18

05.07-31.08.2011.: Tue-Sun 14-20
The building situated on 'Káptalandomb' functioned as an episcopate court judge house from the middle ages. During Roman occupation a barn and food storage stood on location.

Opposite the east side of the cathedral, behind the Saint Michael statue a building surrounds a gate with stone frame opening to a large yard. The steep roof of the building on the left hand side, as well as its windows suggest its origins in the middle ages. The set-up of the façade betrays the same notion.

The statue by Miklós Borsos entitled 'Primavera' is located in the yard. In the barn-like building with half-pitched roof 4 large copper embossments, the grave design entitled 'Lamenting Woman' and the original bronze model of the Janus Pannonius statue now located in Pécs, as well as stone fractures from the 18th century found during excavation works on the 'Káptalan Hills' are located.

An 'L' shaped cellar is positioned under the building. A 17-18th century chapter prison opens from the smaller room. The well that once provided for drinking water commissioned by the bishop in the middle ages is also located in the cellar.

The permanent exhibition presenting the oeuvre of Miklós Borsos opened in 1979 in the national house the citizens of Győr call Borsos House. The Ilona Kéry Memorial Room showing the inheritance of the widow of the artist was added to the display in 2001.

The document archives of the museum is located in this section containing manuscripts written by the Borsos himself as well as other important documents related to the life and work of Miklós Borsos.

The material of the permanent exhibition was organized by the artist himself. His most important paintings, drawings, small statues, statues, medallions and relieves are account of the achievements of the artist.
Permanent exhibitions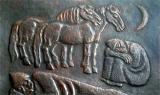 In the covered part of the intimate courtyard we can see the bronze reliefs (1966) of Miklós Borsos. A stone statue entitled Mourning woman, the figure of Janus Pannonius and in the small yard - in an evergreen environment - the artwork called Primavera (1978) are also seen. The items exhibited on the ground and the first floors provide us with a thorough insight to the painting and sculpure works of the master.

further exhibitions