Museum of Applied Arts
- Budapest
Address:

1091, Budapest ├ťll┼Ĺi ├║t 33-37.

Opening hours:

Tue-Fri-Sun 10-18
Right from the building of the palace fierce disputes were manifested, but its importance in the trend of international secession and in the lifework of Lechner is now an undoubted fact. The building is characterised by the oriental ornamentation of early secession. The harmony of function, high artistic standards and unique forms is secured by modern static structures. The coloured dome adorned with Zsolnay ceramics and the open entrance hall with its wonderful ornaments still make a warm invitation to the visitors.

Permanent exhibitions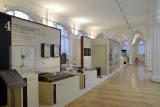 The Museum of Applied Arts was established in 1872, as the third of the sort in Europe, after London and Vienna. The Museum of Applied Arts together with the Museum of Fine Arts is the keeper of the most illustrious collections in Hungary.

further exhibitions