Central Museum of Mining - Jenő Balás Bauxite Mining Exhibition
- Gánt
Address:

8082, Gánt Bányatelep 1.

Phone number:

(22) 354-485

Opening hours:

01.04-31.10.: Tue-Sun 10-17
The exhibition in Gánt shows the history of bauxite mining in 1914-1990.

The exhibition ward, or better to say the mine openings that provide space for it, was built on occasion of the 50th anniversary of the beginning of bauxite mining in Gánt. The demonstration was built up by the Bauxite Mines Company of Fejér County at the old location of the Mine on Bagoly Hill. The exhibition that has been open since 1978 first functioned as an institution of the company, then until December 2003 it was operated as the filia of the Center Mining Museum and now is operated by the Center Mining Museum Foundation.

The exhibition is on the territory of the Village of Gánt next to the main road from Gánt to Székesfehérvár. The Bauxite Geological Park is situated right in its neigbourhood. There is a large parking lot in font of it.

The exhibition is on 300 m2 in open air and 360m2 under the earth. The visitors of our exhibition may learn of mining through posters, equipments and tools.

The larger machines of strip mining are displayed in the garden.
Permanent exhibitions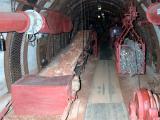 The 40 posters at the entrance and exit mainly describe the bauxite mining in Hungary but also talk about aluminium, oxide and bauxite mining in France. A whole chapter is about bauxite mining that began in Gánt in 1926 and became a very important factor in European industry soon.

further exhibitions