Museum of Hungarian Agriculture - The Country House of Cece
- Cece
Address:

7013, Cece Árpád utca 46.

Opening hours:

01.04-01.11.: Sat, Sun, bank holidays 10-18

(Also at other times on prior notice)
The open-air popular museum was founded in 1980. The work was supervised by the Hungarian Agricultural Museum. The value of the museum can be found not only in the items exhibited here, but also in the unity that characterized the collecting work. Objects and donations were given absolutely free of charge, though in many cases they proved rather valueable.

Permanent exhibitions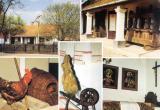 The exhibition can be interesting to those, who only bump into the museum by accident. Many objects will recall traditional items we still use today, but in a renewed form, such as the coal iron, the loom, etc.

further exhibitions