Medieval Ruin Garden - National Memorial Place
- Székesfehérvár
Address:

8000, Székesfehérvár Koronázó tér

Phone number:

(22) 315-583

Opening hours:

Temporarily closed.
Permanent exhibitions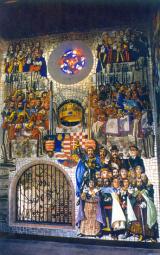 Through the twofold holy years, the Eucharist and the St. Stephen Memorial Year (900th anniversary of St. Stephen's death) Székesfehérvár was brought into the center of nation-wide attention. The town was about to give such commission to Aba Novák, which would be the peak point in the artistic career of the artist. In October 1938 the religion- and education minister proposed for a worthy celebration of the St. Stefan Memorial Year. The preparatory works to be made in the ruin garden was assaigned to Vilmos Aba Novák.