King St. Stephen Museum - Medieval Ruin Garden - National Memorial Place
- Székesfehérvár
Address:

8000, Székesfehérvár Koronázó tér

Phone number:

(22) 315-583

Opening hours:

01.04-31.10..: Tue-Sun 9-17

25.05.2015.: 9-17
The basilica, the building of which was started by king Stephen, had been the most important and sanctified place of the medieval Hungarian government, right up to the Ottoman occupation (1543). Fifteen Hungarian kings had been crowned here (with King Stephan among them), and the crown, the royal treasury and archive were also kept here.

Permanent exhibitions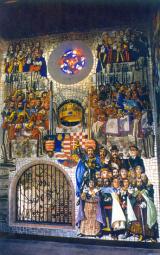 Through the twofold holy years, the Eucharist and the St. Stephen Memorial Year (900th anniversary of St. Stephen's death) Székesfehérvár was brought into the center of nation-wide attention. The town was about to give such commission to Aba Novák, which would be the peak point in the artistic career of the artist. In October 1938 the religion- and education minister proposed for a worthy celebration of the St. Stefan Memorial Year. The preparatory works to be made in the ruin garden was assaigned to Vilmos Aba Novák.

further exhibitions