The Budenz House - The Ybl-Collection
- Székesfehérvár
Address:

8000, Székesfehérvár Arany J. u. 12.

Phone number:

(22) 313-027, (22) 315-583

Opening hours:

Temporarily closed.
According to the interest and taste of Ybl, the collection mostly consists of the works of artists of the Hungarian plains and the representatives of post-impressionism in the 1930'ies. The plastic part of the collection presents almost every significant master of the first part of the 20th century. The paintings and statues are displayed on two floors of the house furnished with some pieces of furniture and applied arts items of the Ybl family.

Permanent exhibitions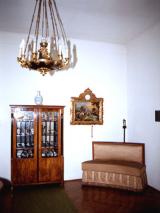 The Budenz House was named after its owner, Joseph Budenz of German descent. Joseph Budenz founded Hungarian comparative linguistics; he was also a scholar of Finno-Ugric languages.The façade of the Budenz House is in Copf style from 1781.Its foundation was constructed in the Middle Ages. The 13th century well unearthed during the reconstruction works seem to prove of the age of the building.
The Budenz House hosts the collection of Ervin Ybl (1890-1965) he bestowed to the King St. Stephen Museum. Part of the bequest is furniture of the Ybl family from the 18-19th century, as well as paintings and personal articles. The rest is the fine- and applied art collection of Ervin Ybl. The collection includes at least one work of art by every outstanding Hungarian artist working in the first decades of the 20th century. There are paintings by Bertalan Székely, István Csók, János Vaszary, Noémi Ferenczy, István Szőnyi, statues by Márk Vedres, Vilmos Fémes Beck, Ferenc Medgyessy, Pál Pátzay, Béni Ferenczy, Miklós Borsos etc. The setting of the study in secession style made in Scotland is a curiosity in the applied art section.

further exhibitions