Collection of Veterinary History
- Budapest
Address:

1071, Budapest Bethlen Gábor utca 20-24. (megközelítés a portán keresztül)

Phone number:

(1) 478-4226

Opening hours:

Mon-Thu 9-16

Researchers: Wed 13-16

You can also view a prior check-in at other times!
The Collection of Veterinary History, established in 1980, belongs to the Veterinary Science Library, Szent István University. An organized file of relics of veterinary history was first established in 1937 and had its place in the central building. The storm of World War II. made a lot of damage to it, and spread a significant part of the fine collection. The permanent exhibition which can be seen today was opened in September 1984 in the modern building H of the Faculty of Veterinary Science.

Permanent exhibitions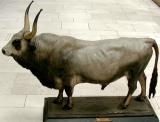 The first nine showcases contain the instruments of veterinary science and illustrate their development. This part involves 200 years, up to the first third of the 20th century. A wide range of instruments made of wood, metal or leather in the 17-18th centuries as well as of those meeting the hygienic requirements of the 20th century can be seen in showcases. The training of horse smiths, having run parallel to veterinary education, as well as the history of horseshoes can be followed in one of the showcases.

further exhibitions