János Tornyai Museum
- Hódmezővásárhely
Address:

6800, Hódmezővásárhely Dr. Rapcsák András út 16-18.

Phone number:

(62) 242-224

Opening hours:

Temporarily closed.
Permanent exhibitions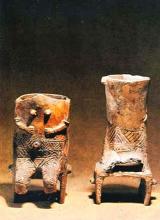 The exhibition titled 'The art of the new stone age and the copper age' is presented by the János Tornya Museum. The findings representing the population of the Körös culture to the population of the Pécel (Baden) culture are from the VI-IV millennia BC.