János Tornyai Museum
- Hódmezővásárhely
Address:

6800, Hódmezővásárhely Dr. Rapcsák András út 16-18.

Phone number:

(62) 242-224

Opening hours:

Tue-Sun 10-17
The János Tornyai Museum was founded in 1905. Its ethnographic collection was based on the objects collected by Lajos Kiss with the instructions of János Tornyai for the Industrial and Agricultural exhibition of 1904. The institution extended by a department of archeology in 1930. The basis of the collection of fine arts is the almost five hundred pictures of the painter János Tornyai.

Permanent exhibitions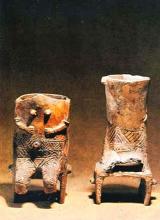 The exhibition titled 'The art of the new stone age and the copper age' is presented by the János Tornya Museum. The findings representing the population of the Körös culture to the population of the Pécel (Baden) culture are from the VI-IV millennia BC.

further exhibitions