Etnographical Private Collection of Jun. József Lele
- Szeged - Tápé
Address:

6753, Szeged - Tápé Vártó utca 4.

Phone number:

(62) 631-996

Opening hours:

Temporarily closed.
The people of Tápa made a living from the river Tisza. Several times floods chased them away, but as soon as the danger was over, they returned to make carpets, bags and roofs from the bulrush that grew here. Tápé is the richest isle of the region of Szeged. Science dates it back to 1138, but higher hills were inhabited as early as in the stone age." - said Sándor Bálint.

I started off my work of collection in 1967, on the encouragement of Sándor Bálint. Four years later Gyula Ortutay himself visited my collection, the specialty of which is that I obtained all of its items in Tápé. Stock book is kept of the relics and the thousands of black and white negatives and slides, which talk about the past of Tápé together.

The old villages soon attracted the interest of the educated world. Writers, poets and painters had a high regard for it. A work-group wrote a monography about the history and ethnography of Tápé. My collection represents the Catholic faith, the bulrush procession, fishing, dressing, land cultivating and other traditions of the generations that lived here.

The exhibition is supplemented by models of some houses and the church. Some pictures of Sándor Bálint are aslo displayed, a few of which were taken in Tápé.

József Lele
Permanent exhibitions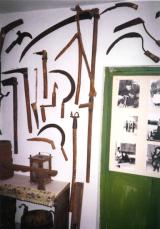 The interior was furnished by traditional furniture. The bridal chest was kept under the big beam, next to it was the table and the bench stood in the 'saint corner'. On the opposite wall were the beds that could be turned up, and on the other side stod the furnace. The walls have pictures of saints on, in the richer families photos. A commode, a civic piece, replaced the chest at the beginning of the 20th century. Since the commode was brown the other furniture was painted brown as well.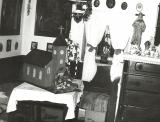 We can hear every now and again about memorial rooms opened in honour of ecclesiastic or worldly people. The furnishing of these rooms remind the visitors of these people. Whenever he enters the room, the spirit of the honoured person touches him. We are happy to visit these places, especially if the person served a good example for us.

further exhibitions