Address:

6720, Szeged Somogyi utca 13.

Phone number:

(62) 425-033

Opening hours:

Temporarily closed.
The Fekete House (Black House) can be found atthe corner of the Somogyi and Kelemen roads. This exhibition hall of the Móra Ferenc Museum atthe same time gives home to the Historical Department of the museum, the applied arts and literary history collections.

The house was built in the 19th centuary. Its name was given after its blackened walls. The house made an important role in the political and literary life of the town. The exhibitions were opened here in 1985 - after a thorough renovation work of the building. At present a social historical permanent exhibition is held here is, but the hall sometimes offers temporal exhibitions as well, mostly in the fields of applied arts, history and literature.

Gábor Herczeg
Permanent exhibitions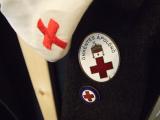 The exhibition presents papers written on birch bark, period weapons, prayer books, postcards and various other relics from WWI. Museum workers are inviting students to take part in their irregular history classes to learn more about WWI.

further exhibitions