Cultural Center and Library - School Historical Collection
- Szendrő
Address:

3752, Szendrő Fő utca 18.

Phone number:

(48) 460-395

Opening hours:

Temporarily closed.
The education history collection of Szendrő was opened in 1982. Collection works were led by Dr. István Demjén. Selections were made of the school historical values of Cserehát area.

Permanent exhibitions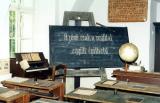 The Csáky mansion house - built in the 17th century - is today an Educational Center. An early schoolroom was arranged in one of its rooms. Furniture, cupboards, benches, chairs and teaching instruments are exhibited.

further exhibitions